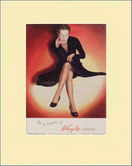 I've decided to expand my prints business to be online as as well as face to face.  So: introducing Arcadian Prints - a crossover between antiques and crafts.  Antiques is the prints themselves, all genuine, no repro, and dated wherever possible.  Crafts is the mounts that surround, protect and enhance them.  
I used to do this 25 years ago and, because my husband is an antiquarian bookseller (and an inveterate hoarder), we now have far more stock than I could possibly sell in a lifetime.  Still, I welcome the challenge.
I should just say that we don't "break" good books, just rescue prints from damaged ones.  And not just books - magazines, Victorian scrap albums, posters, other ephemera etc.