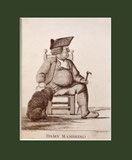 This was first published as "Damn Bucephalus!", referring to a racehorse which ran, and nearly beat, the famous horse Eclipse at Newmarket in 1770. Lord Grosvenor's horse Mambrino had a successful career, but broke down in 1779 and it's thought this is where the change of name to Damn Mambrino came from. 
It was etched by Henry Bunbury, described in a book on and by Oliver Goldsmith and Sir James Prior as "celebrated for the powers of his pencil".
Of no particular relevance to the picture, but I found it interesting, is that this comment was drawn from a "jocular" letter from Bunbury's wife to Goldsmith, which Goldsmith seemed to feel necessary to criticise at length.  I don't know how he'd manage with Facebook.