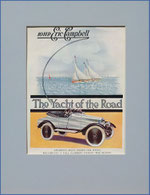 On first seeing this, I thought Eric Campbell was a relation of Donald Campbell (ignoramus!).  It is, in fact, a car designed and made by the team of H Eric Orr-Ewing and Noel Campbell Macklin.  The car was made between 1919 and 1924, but the company came to a sad end in 2016, when it went into receivership.
Macklin was awarded a knighthood for his services to the Navy during World War II.
Oh - and there is a relationship to speedy drivers - Noel Campbell Macklin was the father of Formula One racing driver Lance Macklin.