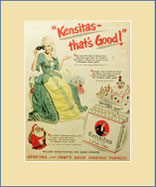 There's enormous nostalgia in some of these adverts, even for someone like me who doesn't like looking back.
My mother smoked Kensitas, and I remember when her silver wedding anniversary was approaching she knew I didn't have any money for a present, so gave me the Kensitas gift coupons she had been saving up and with them we "bought" a stainless steel (so much more with-it than silver in 1963) candlestick.
I still have the candlestick, as it happens.