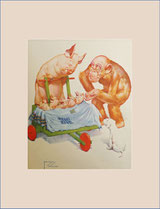 I expected people to find Gran'pop a bit scary when I put some of these #Lawson-Wood prints out just before Christmas, but no.  Admittedly this is one of the cuter ones.
I'll put some of the others on the website over the next few weeks to show you.  
Considering it's at least 75 years old, it shows that the youngsters of the day were quite robust.  
If anyone remembers them and was scared, let me know.