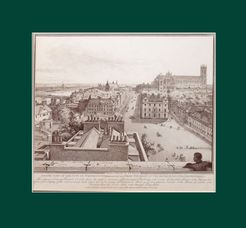 Undoubtedly, our best sellers at fairs and markets are the advertising prints.  
Sometimes, though, it's good to stop and reflect that earlier prints had an enormous amount of individual effort put into them.
Take this early 19th century etching, for example.  Taken from Smith's Antiquities of Westminster, J T Smith must have stood on the roof of Banqueting House at Whitehall to draw this, with all the activity going on below, and then painstakingly etched it to make it suitable for printing.
Nowadays, we just take a selfie.