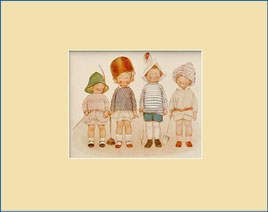 My favourite thing about selling (apart from the money of course!) is hearing the reasons why people buy certain pictures.
For example, this print sold at the Sunday Supplement yesterday and the lady who bought it said she was one of four children and she was buying this for her sister.  "I know she'll just get it", she said to me.  "It's perfect."
The previous week I sold a print with a monkey being hit by a snowball, which was bought for someone in Australia who likes monkeys and hates snow.  Who'd a' thought?!