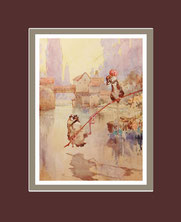 I'm gradually (very) getting more pictures on to the website to replace my sold items and this one is a "work in progress" by Harry Rountree. 
It's at Stage 3 and you can see the final version on the right, with Rountree's signature.  These were done for The Art of the Illustrator, in 1918.
I rather like this midway version, soft and subtle.