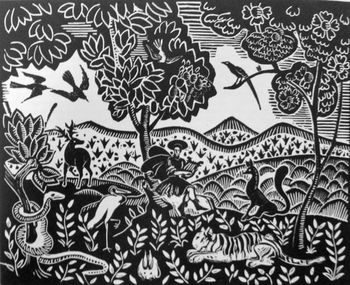 ... then I'll begin.  This is the first of a few blogs about types of print.
Prints can be loosely categorised as Relief, Intaglio or Planograph.
Relief: means that the image is taken from the raised part of a printing block, commonly used with woodcuts and linocuts.  Therefore you cut away the parts you don't want, as opposed to …
Intaglio: which means that you cut the image out of the block or plate, which is normally copper or steel.   A noticeable feature of many engravings is the visible plate line outside the area of the print. This method includes engravings, etchings, mezzotints and aquatints and I'll describe them in more detail in later blogs. 
This image falls into the Relief category; it is a woodcut by Morin-Jean, reproduced in The Golden Hind Quarterly Magazine in 1922, at a time of resurgence for the style.