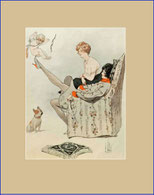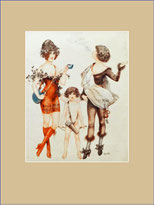 Love these illustrations from La Vie Parisienne.  As rescued prints go, these are probably the most fragile I've had to deal with, given the thinness of the paper they were printed on (almost like tissue).
Still, I think they've stood up very well and I've tried to give an indication of the more severe creases and marks.
I have seen reproductions of these, at various prices, and I guess it depends on what you're looking for.  Do you just want a pretty print that looks nice on your wall?  Or do you like holding a bit of history and remembering that someone in France was keeping his (or her) spirits up during the first world war with these saucy women.
Either is valid, but I know which I prefer - obviously!  
https://www.arcadianprints.co.uk/prints/20th-century/