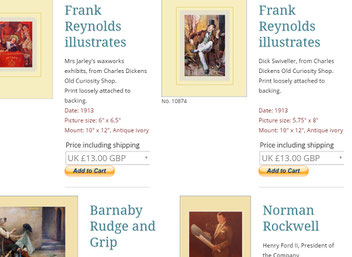 I also sell on Etsy and because they are now saying they'll give priority to those who offer free shipping in the US (in other words, offer free shipping or you'll be on the 150th page of any searches), I thought I should clarify how we sell here.
It costs £13 for most of our packages to be shipped to the US.  I'm not going to turn a £10 print into one costing £23, just to make it free in the US, so for now it's status quo.  It isn't free anyway and most shoppers know that.  I use the phrase "Price including shipping", which I believe is more accurate.
I add £3 to the UK price I sell for on the markets, which more or less covers postage, but not packaging costs (hey, it's just in my nature to be generous).  If you buy more than one print, I point you towards the "Orders/Enquiries" button so that I can accurately charge your postage, but if you just press the "Add to Cart" button instead I refund you any over-payment on postage.
I need to find a pithy way of expressing all of this, but it may just be to say "Discounts for two or more".