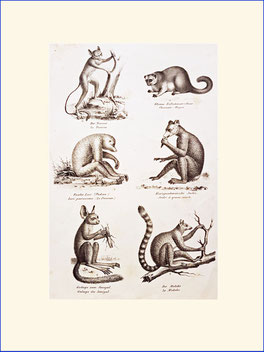 While watching a programme about the wildlife of Borneo the other day, I realised it's quite possible that most of the species I have just posted on my website may well still exist, given the diversity in that country.
Some will be endangered though - an example is the slow loris, which is subject to animal trafficking. 
These illustrations were drawn and printed by Karl Joseph Brodtmann, for Schinz's "Naturgeschichte und Abbildungen der Saugethiere" (Natural History and Illustrations of Mammals), c1825.  They may not be as cute as some modern-day photographs, but were considered to be pretty accurate at the time.