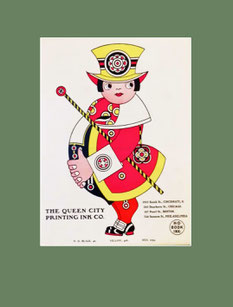 I've been musing about how an artist comes up with an idea for advertising posters. I love this A L Jansson advert for the Queen City Printing Ink Company, but I can hardly imagine they told him to do this style.
So, I looked him up and saw some of his postcards, so I assume they liked what he was doing and asked him to do the same for them.
They have an art deco feel in the cleanness of the lines, though he's a bit ahead of his time in that case - he seems to have been working for the company for a few years around 1910.
I think I've got one or two more posters in the bottom of my filing cabinet, so I'll have to dig them out - I've just sold one and I like having them on my website.