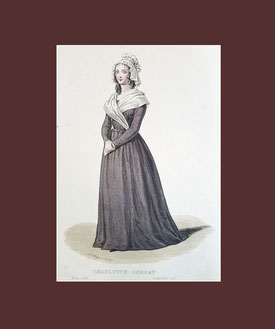 This aquatint from The Court Ladies Magazine, with original hand colouring is included with a number of royal personages, dressed in magnificent outfits - which outfits were generally the purpose of inclusion in the magazine.
So this is a little different, plainly dressed as she was.  She was, literally, a striking figure during the French Revolution, being responsible for the death by stabbing of Jean-Paul Marat, a Jacobin leader who was acting against the more moderate Girondins during the Reign of Terror. 
She felt she was protecting France by this act, "killing one man to save 100,000", but in fact merely succeeded in making a martyr out of Marat and increasing the activities of the Jacobins.  She was duly executed.
I'm not quite sure why the Court Ladies Magazine included her amongst the kings and queens; my own interest stems from my being in "The Persecution and Assassination of  Jean-Paul Marat as performed by the inmates of the asylum at Charenton under the direction of the Marquis de Sade" while at drama school. The title says it all (fortunately) - it was a musical but not one of the ilk of Mary Poppins, it has to be said. We toured the US with it in 1970 and it went down a storm with the revolting students of Berkeley.
See all the aquatints from the magazine here.