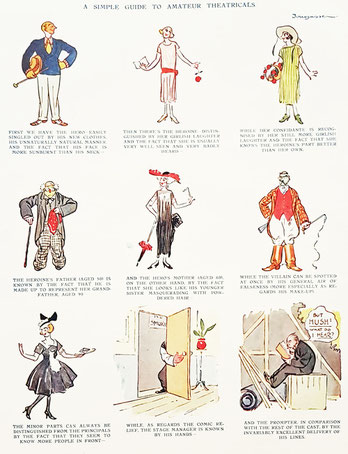 Mostly, I would say the picture tells the story.  However, here I think you need a little help.  So:
A Simple Guide to Amateur Theatricals
First we have the hero - easily singled out by his new clothes, his unnaturally natural manner, and the fact that his face is more sunburnt than his neck.
Then there's the heroine - distinguished by her girlish laughter and the fact that she is usually very well seen and very badly heard
While her confidante is recognised by her still more girlish laughter and the fact that she knows the heroine's part better than her own.
The heroine's father (aged 50) is known by the fact that he is made up to represent her grandfather, aged 90
And the hero's mother - (aged 60), on the other hand, by the fact that she looks like his younger sister masquerading with powdered hair.
While the villain can be spotted at once by his general air of falseness (more especially as regards his make-up).
The minor parts can always be distinguished from the principals by the fact that they seem to know more people in front
while, as regards the comic relief, the Stage Manager is known by his hands
and the prompter in comparison with the rest of the cast, by the invariably excellent delivery of his lines.
Below, we have it in its mounted form, with a link to the page - and another nice theatrical cartoon.