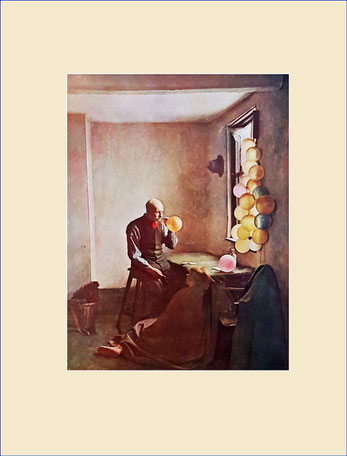 This print of Ernest Townsend's painting "The Balloon Man" was reproduced in the Illustrated London News in 1928. It was exhibited at the Royal Academy in 1919, one of a number of his paintings to appear there.
Particularly known as a portrait painter (Winston Churchill among others), Townsend was commissioned to paint Edward VIII, who then abdicated before the painting was exhibited, leaving Townsend to re-do the painting with George VI's face. Townsend's son writes a nice article in the Derby Telegraph with this and other anecdotes about his father.
One story in the Telegraph, also mentioned elsewhere, is that Townsend created a design for the roofs of the Rolls-Royce aircraft engine factories in Derby so that they appeared to German bombers to be ordinary houses. Very enterprising!
This is a lovely portrait - does anyone know the background to the painting?